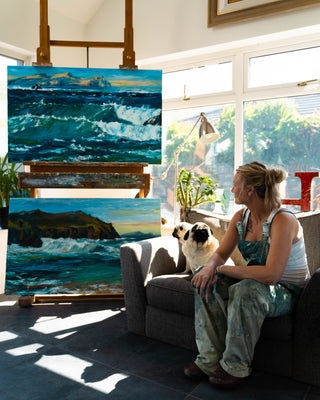 ARTIST
My Story
Learn about the inspirations behind Honora's art.
A Bit About Honora O'Neill

If a person could be of a place without being from that place, Artist Honora O'Neill is of Chorca Dhuibhne (West Kerry), Ireland.
Ms O'Neill's grandmother, Mary, emigrated to America from the family place of Cathair Scuilibin while still a teenager. Like many (if not most) displaced from West Kerry, she passed on to her daughter, Leah, a familial connection to and the indominable spirit of her native home. That profound connection was then gifted to Honora and her older sister.

Honora was introduced to the beauty and wonder of her ancestral homeland during school breaks and family holidays. The gravity of Chorca Dhuibhne caught her in an ever-decreasing orbit of the country she now lives, works, and calls home.

A gifted young artist whose passionate spark was fanned and fueled by faculty and friends in the crucible of Deerfield Academy, there was no dearth of choice when it came to art schools for Honora. The prestigious Crawford College of Art and Design in Cork City served as both training ground and launching pad for the impassioned career now unfolding from her base, The Dillon Gallery, Dingle. On weekends while at The Crawford, Ms O'Neill would return to the familiar surrounds of Chorca Dhuibhne's coast and cliffs. There she sought out the natural inspirations that abound - sketching scenes no matter the weather - in this place which has quietly incubated talent for as long as it has been peopled.

Somehow, Ms O'Neill's paintings whispers to an ancient part of us all. Hers are calming representations of tumultuous scenes exhibiting both peacefulness and intensity. The unbridled power of sea harnessed and corralled within a frame.

Artists are often asked how long it took to paint a particular work. It would not be hyperbole for it to be said of Ms O'Neill's paintings that they took generations. The anguish of her grandmother at leaving her homeplace, the longing of her mother for the land and language of her people can all be sensed in her art. Great beauty is expressed, and dark pains exorcised in these oils on canvas.

There is a fitting phrase in Chorca Dhuibhne, often said when looking out from the very places Ms O'Neill draws inspiration. "Next parish, America." From her vantage, Ms O'Neill's paintings look toward the place her mother's mother had to go in order for her artist granddaughter to return.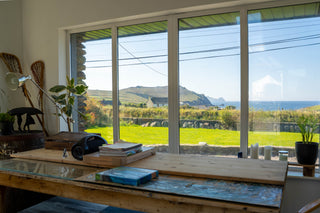 My Home Studio
It's easy to see where Honora gets her imagination from by looking out the window of her studio. The Sleeping Giant, known locally as An Fear Marbh rests gently behind the cliffs opposite Honora's home.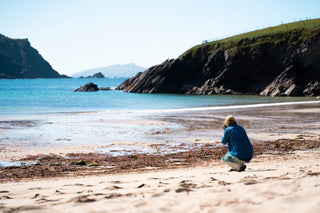 My Inspiration
If Honora is ever in need of some free space to explore new ideas, the coastline of the Dingle Peninsula provides that outlet to her.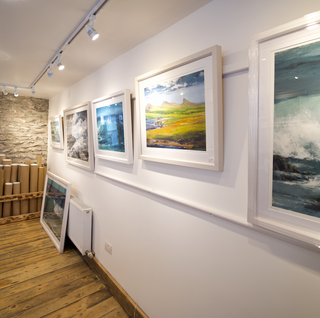 Gallery in Dingle
Opened in 2006 by Honora. She has successfully run her business from Green Street. Meeting new and familiar faces every day who are always in awe of her work.